Glass Furnace - EcoMelt®
The EcoMelt® regenerative furnace improves your bottom line while producing cutting edge, high quality glass products
Glass Melting Made Easy and Repeatable

Stewart Engineers applies over 35 years of experience to design, develop, and deliver superior efficient melting furnace technology to the glass industry. EcoMelt® furnaces are regenerative, multi-port, cross-fired, and designed for long-life. Stewart can assist customers with specifying tonnage, fuel source, glass type, and automation level to suit their market needs. Stewart will design, develop, and install an EcoMelt® furnace to fit your needs.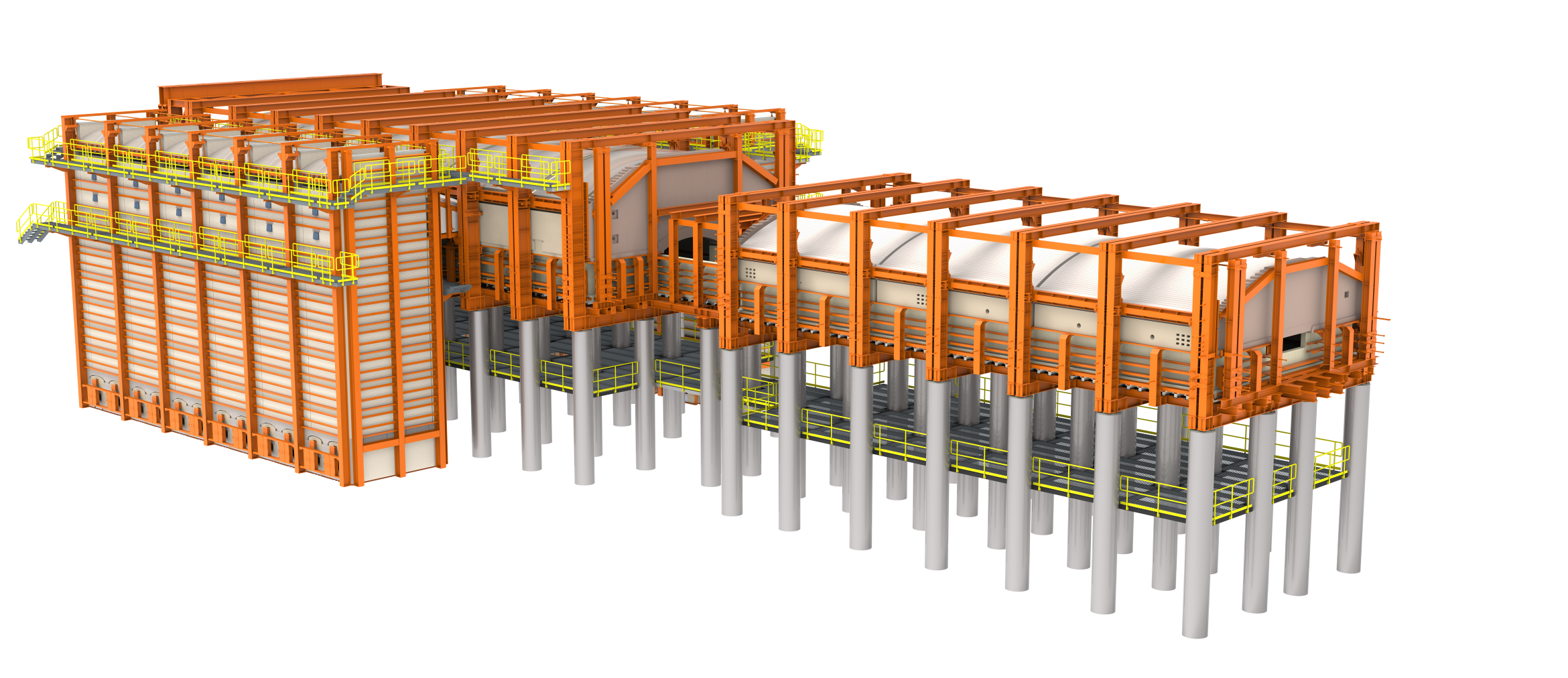 EcoMelt® Technical Capabilities
The fully customizable energy efficient EcoMelt® furnace is designed to produce the highest quality coated, architectural, automotive, and electronics glass while maintaining the best thermal efficiencies, lowest emissions, and maximum furnace life.
Glass Type
Soda Lime, Ultra-Clear, Tints, Borosilicate
Tonnage
50-1200 MTPD
Energy Efficienty
1350 ± 10% KCAL/KG
Glass Level Precision
± 0.15mm
Canal Temperature Precision
± 0.7 C
Furnace Pressure Precision
± 0.30 mmH2O
EcoMelt® Financials
High yields and long furnace life are necessities for a float facility to reach full profit potential. Stewart Engineers achieves these objectives through:
Energy Efficient Design
Meticulous Refractory Selection
Robust Design
Detailed Operational Training
User Friendly Design
Precise Furnace Sizing
Comprehensive Maintenance Training With A Low Maintenance Design
Proven Glass Batch Formulations
EcoMelt® furnaces can attain 20-year melting campaigns. Long campaigns between rebuilds provide the highest return on investment. Lost sales revenue during a rebuild exceeds rebuild capital expenditures.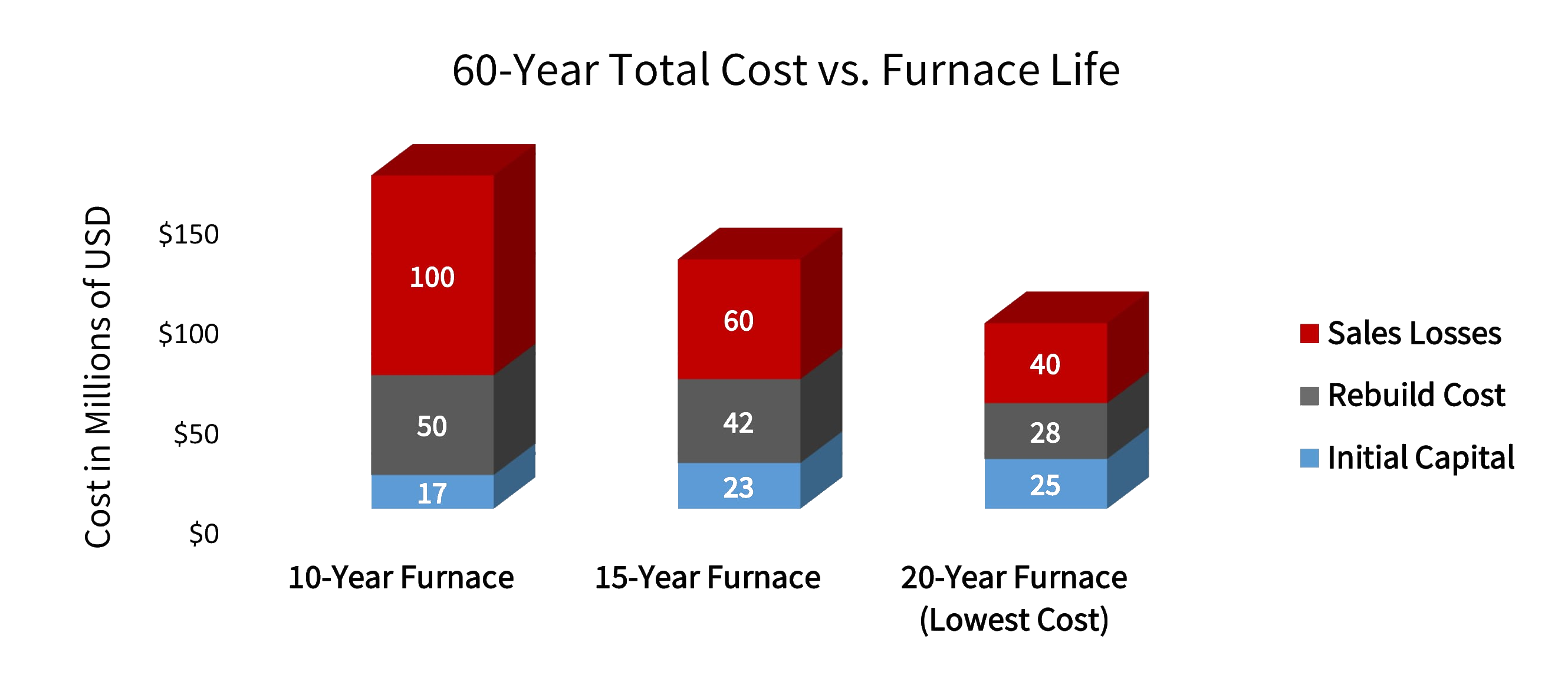 Stewart Engineers specializes in achieving high yields by utilizing the EcoMelt® furnace technology with expert operational and maintenance training. This combination results in up to a 10% increase in yields and millions in additional sales revenue per year. Our premium technology and expertise will serve as the foundation to ensure superior furnace performance, boost yields, and lengthen furnace life.
EcoMelt® Image Gallery
EcoMelt® Commercial Glass Applications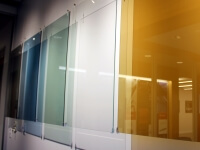 Coated Glass
EcoMelt® furnaces yield the highest quality glass for the AcuraCoat® CVD coating systems in order to produce value-added coatings such as photovoltaic, energy saving architectural, and appliance glass.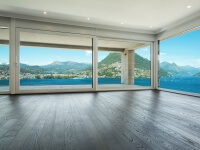 Architectural Glass
EcoMelt® furnaces produce glass for many architectural applications. The high quality, low defect glass serves as a perfect medium for insulated glass units and other architectural applications.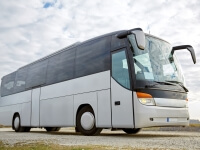 Automotive Glass
EcoMelt® furnances produce high quality, low defect glass needed for automotive applications. Automotive glass is commonly tinted, laminated, and bent.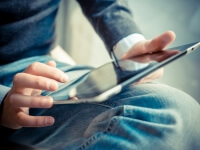 Electronics Glass
EcoMelt® furnaces are capable of producing other compositions such as high alumina, high zirconia, and borosilicate glasses for display and other electronic applications.
EcoMelt® Technology
The EcoMelt® furnace deploys a coalition of the latest industry innovations and technology built upon a proven, robust foundation. This coalition has been perfected to maximize energy efficiency, glass quality, furnace life, ease of operation, and, ultimately, profits. Every refractory block and steel member of the EcoMelt® furnace has been fully modeled in 3D CAD. EcoMelt® furnace comes equipped with an unmatched refractory and insulation package that allows for significant increases in energy efficiency and glass quality.
For each project, Stewart assists customers in specifying the tonnage, ribbon width, and glass type to suit their needs. Our expertise in glass manufacturing facilities, combined with a relentless commitment to innovation, enables us to deliver the best products and services in the glass industry.
EcoMelt® Furnace Downloads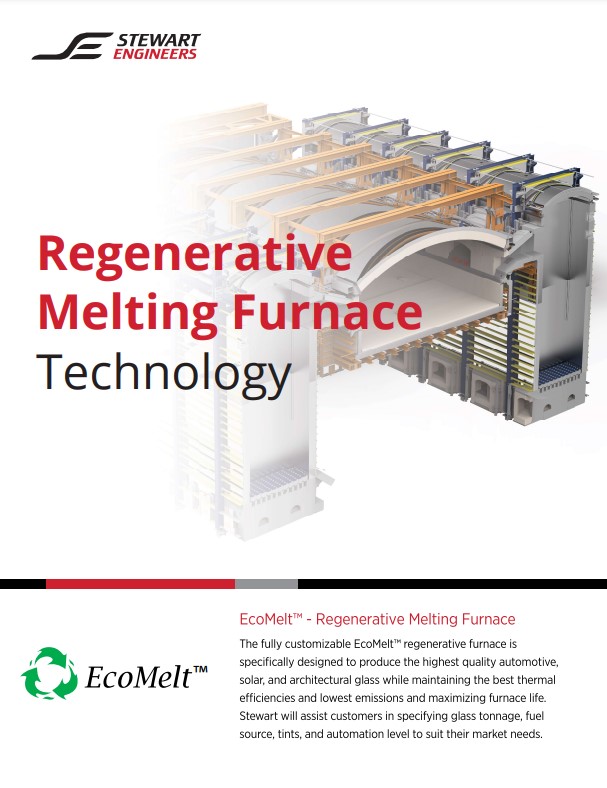 EcoMelt® Furnace
EcoMelt™ furnaces employ a high degree of automation to control pressure, temperature, and glass level with minimal operator intervention. Furnace automation results in increased yields, decreased operating expenses, and longer lifespan.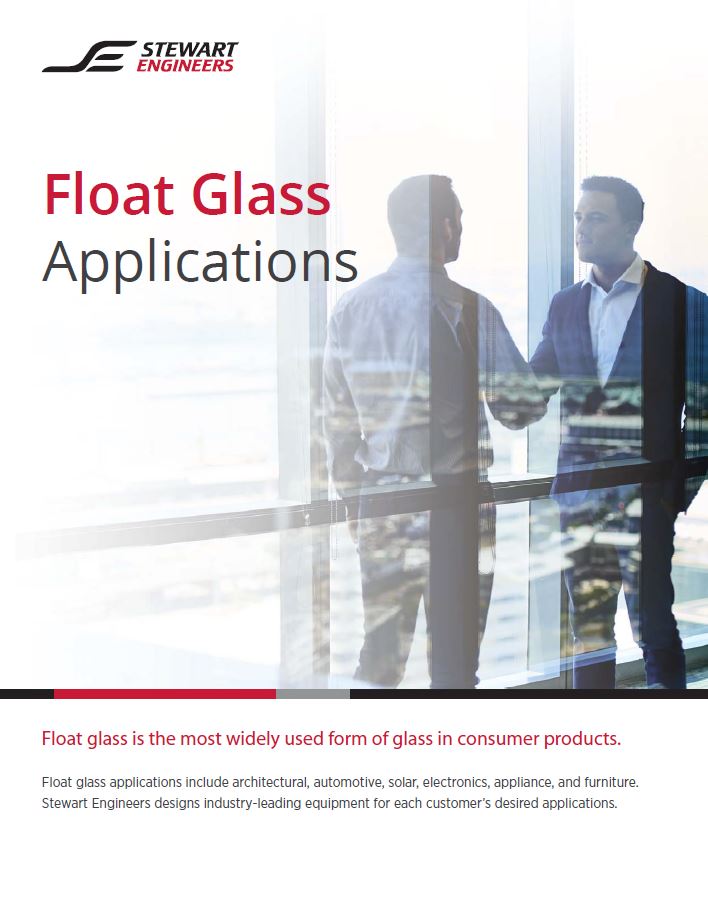 Float Glass Applications
Float glass applications include architectural, automotive, solar, electronics, appliance, and furniture. Stewart Engineers designs industry-leading equipment for each customer's desired applications...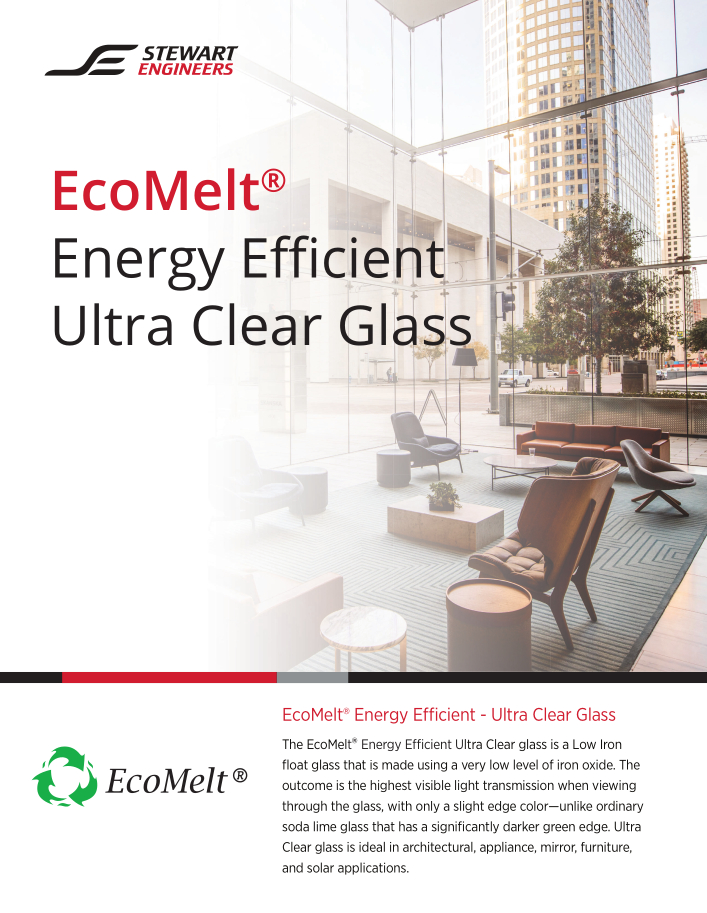 EcoMelt® Ultra Clear Glass
The EcoMelt® Energy Efficient Ultra Clear glass is a Low Iron float glass that is made using a very low level of iron oxide.
EcoMelt® History
EcoMelt® furnaces give independent float manufacturers access to the latest furnace technology. Two EcoMelt® based furnaces are in operation today in Italy with both producing premier quality float glass. The two furnaces combined have produced over 200,000 tons of ultra-clear glass. These two furnaces serve as the robust foundation for the EcoMelt® furnace.
Sangalli Group
Founded in the 1950s. First independent float glass producer in Italy.